published ~ August 19, 2014
review copy provided by Author ^
Sloane
How many times can a person fall down and still get back up? How many times can things go wrong before you just give up?
I've lost everything. My home, my job, my purpose in life—everything has been turned upside down. But while life hasn't exactly turned out the way I would have liked it to, I wouldn't change a thing. If things were different, I wouldn't have Lacey. I wouldn't have Michael.
But most importantly, I wouldn't have
him
.
I've realized what I feel. He knew it before I did. Only one question remains:
Is he capable of feeling the same way?
Zeth
Secrets are a prison, and I have been behind bars for years. Sloane Romera has been turning keys in all of my locks, throwing light on corners of my mind that I thought would forever be shrouded in darkness. Or at least I had hoped would be.
I have done so many wrongs in this life, and yet this woman has forgiven me. She's done something I never thought possible—she has learned to understand me, and she hasn't run. She's amazed me. She's saved me. She's fallen in love with me.
If it's within my power, I'm about to do the same for her.
I would
HIGHLY
recommend that you read the previous 4 books in this series! You will be totally lost if you don't.
I am a
HUGE
fan of this series. So far I have
LOVED Zeth!
He is the epitome of Alpha Male. He does not take shit for anyone.....EVER!
SO.HOT.
And I am loving how Sloane is just getting stronger and stronger as a women. She truly is becoming one of my favorite female characters. She knows exactly when to push Zeth, and when she needs to hold back. She is learning to tell Zeth exactly what she wants, how she feels, even if it freaks him the fuck out!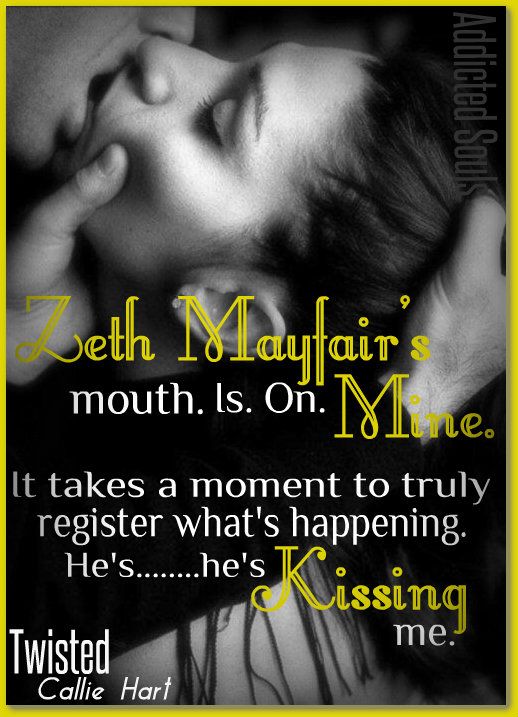 Twisted might be my favorite book in the series so far.....and that is say a whole hell of a lot. I just LOVED this one so much because it is much more
emotional.
Zeth laughs, rests his forehead against his folded arms as though he can't look, and a gutting sensation hits me. He laughed. He looked shy, almost. For that.
Lot's of stuff gets put out in the open, some good and some bad.....but this only makes Zeth and Sloane's relationship stronger. There is a lot more sex in this book. Not just any kind of sex, but the pantie melting, kinky, ZETH kind of sex. So we have emotions, sex and the biggest WTF betrayal that I've read in quite a while. Out of the blue, shocking, and SO unexpectedly delicious.
OH. SO. GOOD.
I am rooting for them SO HARD! They still have a shit ton of obstacles in their way, and I am so curious as to where Callie Hart is going to take this series. I just can't figure it out which I adore because it keeps me engaged in the story. I am devouring every word and am not so patiently waiting for the next book. That being said, I hope Callie draws it out for as long as possible because like I said before, I am loving Zeth and Sloane and am far from ready to say goodbye!
If you are looking for a super sexy, kinky, violent (forgot to mention that earlier), emotional, where is this story going read then I would
FOR SURE
recommend the
Blood & Roses series.
Series Reading Order & Purchase Links