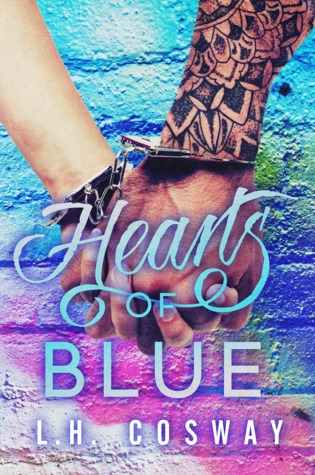 She upholds the law. He breaks it.
Two blue hearts, both alike in bravery In not-so-fair London, where we lay our scene From gun crime to petty theft Where family is blood and survival makes hands unclean In this place, we find two hearts who should be foes And yet, amidst the turmoil their love still grows Misadventure abounds and the divide will bring them strife But with luck, death doesn't always mean an end to life.
Hearts of Blue is a standalone contemporary romance that tells the story of star-crossed lovers Karla Sheehan and Lee Cross, a police constable and the thief who steals her heart.

I have been waiting for this story for what seems like forever! While, I know it has not been that long, I could not wait to see what L.H. Cosway had in store for Lee & Karla. The bad boy and the Cop. Usually the Cop in a story is the man....but not this time! How refreshing that the cop is a woman. LOVE! And while Lee & Karla come from different worlds, they have something in common. The need to prove themselves.
It's hard not to fall in love with Lee. The sexy bad boy. The taboo. I mean what can be more taboo then the good Cop and the bad boy? Knowing that the person you are falling for is a criminal when YOU put criminals in jail. And if anyone found out about who you were sleeping with you would be laughed off the force. YIKES!
I believed it! I believed every second, every page. I was all in and left satisfied. I can expect nothing less from L.H. Cosway and her Hearts Series. Yes, this one had a little different feel from her other stories, but it suited the characters. Both have to be tough because of what they do. There is less quirkiness because it's not who these characters are. I'm okay with that. It would seem strange to me to have a quirky thief & awkward cop.
Do yourself a favor and read this series! Read this book! Read anything by L.H. Cosway. You will not be left disappointed.
*ARC provided for honest review*
4 Totally Addicted Skulls
L.H. Cosway has a BA in English Literature and Greek and Roman Civilisation, and an MA in Postcolonial Literature. She lives in Dublin city. Her inspiration to write comes from music. Her favourite things in life include writing stories, vintage clothing, dark cabaret music, food, musical comedy, and of course, books.

♥ READ THE BOOKS ♥
Six of Hearts
Hearts of Fire
King of Hearts
Hearts of Blue